Let us be clear: racism is an affront to God. It is born out of ignorance, and must be eradicated. We all bear the responsibility and must play our part to eliminate this scourge on humanity.
Archbishops Justin Welby and John Sentamu
2 June 2020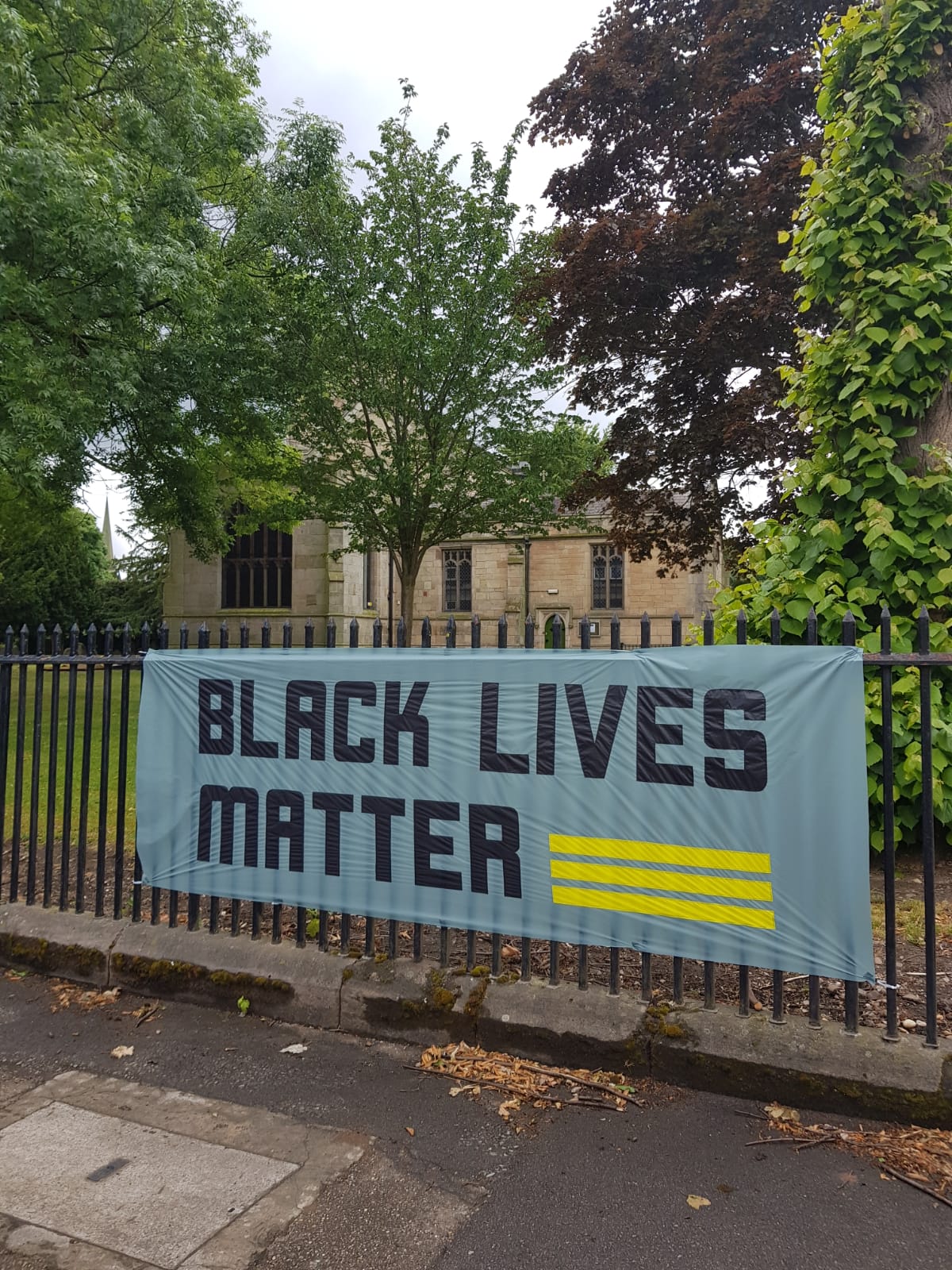 You will almost certainly be aware of the horrific killing of George Floyd by a police officer in the US
and of the outpouring of anger and grief that has followed. Right across the world, people are asking how we're going to change, to recognise and respond to the toxic effects of systemic racism, and be part of a better future.
This afternoon, we have put up two banners outside church, declaring that Black Lives Matter, as part of our commitment to being an inclusive church. But as Anglicans we are called to to live out the
Five Marks of Mission
, one of which charges us to
'transform unjust structures of society, to challenge violence of every kind and pursue peace and reconciliation'
. This is not an optional extra. This is key to who we are, and who we're called to be. It's uncomfortable, but it's not negotiable.
It can be difficult to know where to start, but our silence places us on the side of those who are happy for things to remain as they are. It can be very uncomfortable to recognise and own the part we play in perpetuating systemic racism, especially if we think of ourselves as 'nice people' T
hese words,
amongst all that's been shared on social media in recent weeks, are both thought-provoking and challenging. Read in the light of Jesus' teachings, and the radical inclusion, justice and transformation at the heart of the gospel, it feels increasingly difficult to claim that 'this has nothing to do with me'.
So - what can we do?
We can pray:
we can name and remember George Floyd, and his family, in our personal prayers, and we are also invited in to join in a
Call to Prayer
at
9.25pm tomorrow, Monday 8 June
; it was 9.25pm local time when George Floyd was pronounced dead. You're invited to light a candle as a sign of both our grief and our hope, and as a commitment to act.
There are more details on this link
.
We can educate ourselves:
The Greenbelt festival has been engaging with issues of faith and justice for over 40 years, and they have an
extensive collection of talks, recorded at recent festivals on the subject or racial justice, which you can listen to for free here.
These are all accessible and engaging, and a good starting point for our thinking together, whilst we continue to be apart.
We'd also invite you to join us in reading
, if books are your thing,
Why I'm No Longer Talking To White People About Race by Reni Eddo-Lodge.
Writing from a UK perspective, this is an uncomfortable but important book, and we'd really welcome reading it in your company.
Let one of us know if this appeals to you
, and - as the lockdown continues to lift - we'll look at ways of sharing together what we've learned, possibly around the end of July.
We're standing in unprecedented times, as we seek to discern what God is calling us to do in response to the events in the world of which we're part - a world which He is transforming, and in which the Spirit continues to move. We need to try to listen together, pray together, move together - and either of us would welcome hearing from you about any of this issues in this email - or indeed, about recent events.
These are challenging times, and uncomfortable realities, and we need to keep talking and listening to one another through them, confident that the Spirit will continue to lead us into all truth and to a brighter and more whole and holy future than these present difficult days.